Industry Hears Call For Credit Scoring Changes
Industry Hears Call for Credit Scoring Changes
DAILY REAL ESTATE NEWS | THURSDAY, APRIL 02, 2015
The way companies calculate people's credit scores needs to change to reflect how people live their lives today, or millions of people will continue to fall outside traditional calculation models and not be able to become home owners.
That was the consensus view of a dozen real estate and mortgage industry experts who met Wednesday at the legislative headquarters of the National Association of REALTORS® in Washington, D.C. to examine the state of credit scoring and what can be done to improve what's become a key part of the mortgage finance process.
Julian Castro, the secretary of the U.S. Department of Housing and Urban Development, was one of a diverse group of housing industry stakeholders who attended the meeting. Castro said his agency is looking at the credit scoring issue as part of its effort to improve credit access to Americans.
NAR President Chris Polychron meets with HUD Secretary Julian Castro at NAR as part of a credit access summit NAR hosted April 1 with Hispanic and Asian real estate groups.
"We do hear about the need to look at new ways of incorporating and analyzing data so that it's more sensitive to getting at the responsibility folks have shown in their lives that would indicate—be predictive of—their future behavior and paying down that mortgage," Castro said. "There's been a disconnect there."
The credit scoring industry has already taken a number of steps to revamp the way people's credit worthiness is calculated. Both Fair Isaac Corp., which produces the widely used FICO score, and credit scoring company VantageScore were present at the meeting to talk about recent changes in the way they determine scores. Fair Isaac Corp. has changed the way it handles medical collections, among other things, so people aren't unfairly penalized for non-recurring problems. Both companies are experimenting with non-traditional charges such as monthly rental and utility payments, although those efforts are not yet built into their regular models.
Experts around the table, including Mark Zandi of Moody's Analytics, Jude Landis of Fannie Mae, and Laurie Goodman of the Urban Institute, agreed that though the housing market has recovered in many respects since the economic downturn of almost eight years ago, one way in which it hasn't come back is in the return to more balanced credit scores as a threshold for obtaining financing. Most conventional loans today are made to borrowers with a credit score of around 740, up 20 points from before the housing boom, when the typical score was around 720.
Zandi noted that, although the difference seems small, the 20-point gap represents millions of borrowers. What's more, a 740 score today is much harder to obtain than it was before the downturn, simply because the economy is so much tougher today.
Learn more about recent changes to the way the FICO is calculated.
Among the recommendations to come out of the meeting is a need to add measurement standards that better reflect changing technology, lifestyles, and demographic trends in the U.S., because up-and-coming minority and millennial consumers don't use credit in the same way households did in the past. For that reason, experts expressed support for credit scoring companies building in non-traditional payments like monthly rent and utility bills into their models.
Representatives from FICO and VantageScore at the meeting said they are doing that and intend to build on innovations that they've already recently incorporated into their models.
"It's such a critical topic," NAR President Chris Polychron said in closing the meeting. "We'd like to see these scoring models that rely on non-traditional histories. We just have a lot to do."
The Asian Real Estate Association of America and the National Association of Hispanic Real Estate Professionals partnered with NAR on the meeting. Representing AREAA was Jim Park, the association's chairman emeritus, and representing NARHREP was Jerry Ascencio, a REALTOR® from the San Fernando Valley in California. Other participants at the meeting were Vanessa Perry of George Washington University, Barrett Burns of Vantage Score, Julie Steinhagen of the Homeownership Preservation Foundation, and Jim Wehmann of Fair Isaac Corp.
—Rob Freedman, REALTOR® Magazine
Call Sharon Skinner with Anchor Mortgage to find out what your credit score is and what interest rate you would have! 864-430-8683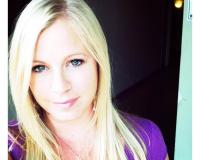 Author:
Kim Guest
Phone:
864-918-0066
Dated:
April 2nd 2015
Views:
305
About Kim: ...