PUMPKIN EVERYTHING RECIPES
Instead of an update on Real Estate. I thought I would indulge Fall this time. The best time of year... unless its Spring and then its High buying season, which for me is the best time of year! I do have to say that if you are thinking of selling right now but it may be best to wait.. you are wrong! These buyers are just waiting to pounce on the next listing that hits the market. TRUST ME... I have 5 waiting for their home. Now is the time and you will get close to asking price... Call me!

Pumpkin Spice Latte
Posted by Everything Pumpkin on September 7, 2014
The pumpkin season is officially here! Pumpkin drinks and products are showing up at the grocery stores and all the coffee shops are serving pumpkin lattes. If you want to save a few bucks, making your own pumpkin latte is pretty easy.
Pumpkin Spice Latte Note: if you are using the pumpkin spice syrup, you do not need the canned pumpkin
Ingredients:
1-2 shots espresso (1/4 C. espresso or 1/2 C. strong brewed coffee)
1 C half and half
1 tb. canned pumpkin, you may use either whole pumpkin or pie mix
1 tsp. Torani Pumpkin Spice Syrup
Optional pumpkin pie spice, nutmeg, or cinnamon.
Directions:
(no espresso machine?)
To make a pumpkin latte in your home: In a small saucepan, stir pumpkin puree into half and half. Add the syrup. Heat on medium until steaming, stirring constantly. You do not want the milk to burn.
In a blender on high speed, use whip setting for 20 seconds until foaming. Pour the mixture into a tall glass and pour coffee over the top. Dust with ground pumpkin pie spice or nutmeg.
(with an espresso machine)
Pour syrup in medium mug and pull your shots. Steam the half and half. Add shots to syrup and then add the steamed milk. Dust with nutmeg.
Serve with a Pumpkin Biscotti – Heaven!
Recipe adapted from Coffee Sage Blog
Posted in Pumpkin Beverages | Tagged: Pumkin, Pumpkin, pumpkin festivals, Pumpkin Latte, pumpkin recipes | 1 Comment »
Savory Pumpkin Quiche
Posted by Everything Pumpkin on October 20, 2013
Makes 1 8-inch pie
Who says pumpkin pie has to be sweet? This simple recipe for a savory pumpkin quiche goes together in no time and makes a perfect brunch or supper served with whole-grain bread and a tossed salad. Enjoy!
Ingredient List
1/2 cup low-fat Gruyère cheese

1 frozen 9-inch prepared whole wheat piecrust

1 cup low-fat milk

2 large eggs

1 tsp. chopped fresh thyme

1/4 tsp. salt

1/4 tsp. ground black pepper

1/4 tsp. ground nutmeg

1 cup fresh or canned pumpkin purée
Directions
Preheat oven to 400F. Sprinkle cheese over bottom of piecrust.

Whisk together milk, eggs, thyme, salt, pepper and nutmeg. Blend in pumpkin. Pour mixture over cheese in crust.

Bake 10 minutes. Reduce heat to 350F, and bake 45 to 50 minutes more, or until pie filling has set and tip of knife inserted in center comes out clean. Cool 10 minutes before slicing and serving.
Serves 6 – Vegetarian Times
Posted in pumpkin recipes | Tagged: Everything Pumpkin, Everythingpumpkin, Pumkin, Pumpkin & Squashes, savory pumpkin| Leave a Comment »
Pasta E Zucca – Pasta with "Pumpkin"
Posted by Everything Pumpkin on October 15, 2013
Pasta E Zucca is one of the staples of the Neapolitan fall table, one of those dishes people eagerly await to come into season, and you'll see how it can grow on you, especially when made with sweet American squash or one of our flavorful pie pumpkins. It is after all, aside from being comforting and delicious with a generous sprinkling of grated cheese and black pepper, it is also a healthful, easy and very quickly prepared dish.
Pasta E Zucca – Pasta with Pumpkin or Squash
Recipe by Arthur Schwartz, Author of Naples at Table
Serves 6
Ingredients:
2 lbs butternut or acorn squash or pie pumpkin
1/3 cup extra-virgin olive oil
2 large cloves garlic, smashed
1/8 to 1/4 tsp red pepper flakes
1 1/2 tsp salt
1/2 lb spaghetti, broken into 1 1/2-inch or slightly longer lengths,
or pasta mista, tubetti, ditali, ditalinni
1/3 cup finely cut parsley
grated Parmigiano-Reggiano
1. For easiest peeling and dicing, cut the squash crosswise into 3/4inch slices. Peel the slices and discard the seeds and fibrous interior. Now cut the squash into 3/4 inch cubes. If using pumpkin, cut it into wedges, discard the seeds, then peel the wedges and cube the pulp.
2. In a 3-quart saucepan, over low heat, combine the oil and garlic and cook the garlic until it is soft and barely coloring on both sides, pressing it into the oil a few times to release its flavor. Remove the garlic.
3. Add the cubed squash or pumpkin and the red pepper. Sprinkle with 1/2 teaspoon of the salt. Increase the heat to medium-high and saute the squash until it is soft and beginning to brown, about 15 minutes. If using pumpkin, it will take about 25 minutes to get the same semicooked state.
4. Add 5 to 6 cups of water and a teaspoon of the salt. Raise the heat, cover the pot, and bring to a rolling boil.
5. Stir in the pasta, re-cover the pot and when the water returns to a boil, uncover and cook the pasta until cooked to your taste. While the pasta cooks, stir it frequently and mash some of the squash cubes with the back of a wooden spoon to thicken the dish. Taste for salt and correct if necessary. Correct the consistency, if desired, by adding more water. It can be soupy, thick or almost dry, depending on your taste.
6. Stir in the chopped parsley and serve hot. Pass the Parmigiano.
Posted in Pumpkin Pasta | Tagged: Pumpkin, Pumpkin & Squashes, Pumpkin Pasta, pumpkin recipes | Leave a Comment »
Warm Pumpkin Salad with Polenta and Candied Pumpkin Seeds
Posted by Everything Pumpkin on September 8, 2013
This recipe is a little time consuming. I made it over the weekend and it took a good 5 hours for it to come together. But, if you are adventurous this is just a wonderful supper salad. Serve it with a glass of Chardonnay or Sauvignon Blanc and it's heaven.
Warm Pumpkin Salad with Polenta and Candied Pumpkin Seeds
Active time: 1 3/4 hr Start to finish: 5 hrYield: Makes 6 servingsIngredients

1 1/2 cups yellow cornmeal (not coarse)
7 1/2 cups water
2 3/4 teaspoons salt
2 1/2 tablespoons unsalted butter
1 tablespoon sugar
1/2 teaspoon ground cumin
1/4 teaspoon cinnamon
1/4 teaspoon paprika
1/4 teaspoon cayenne
1/2 cup raw green (hulled) pumpkin seeds (pepitas)
1 tablespoon fresh pomegranate juice (see cooks' note, below) or cranberry juice cocktail
2 teaspoons Sherry vinegar
1 tablespoon minced shallot
6 tablespoons extra-virgin olive oil
1 small cheese pumpkin or butternut squash (2 lb), peeled, quartered lengthwise, and seeded
1 (6-oz) piece Parmigiano-Reggiano
8 oz arugula, trimmed

Preparation

Prepare polenta:

Bring cornmeal, water, and 2 1/4 teaspoons salt to a boil in a 4-quart heavy saucepan, stirring constantly. Reduce heat and simmer, stirring frequently, until polenta is creamy and tender, about 50 minutes. Remove from heat, then stir in 11/2 tablespoons butter and cool slightly.

Spoon polenta onto center of a lightly buttered large baking sheet, then spread evenly into a 10- by 7-inch rectangle (about 1/2 inch thick). Cover with plastic wrap, then poke several holes in wrap with a small sharp knife and chill 2 hours.

Candy pumpkin seeds:

Melt remaining tablespoon butter in a heavy saucepan over moderate heat. Stir in sugar, cumin, cinnamon, paprika, cayenne, and 1/4 teaspoon salt, then cook, without stirring, until caramelized. Add pumpkin seeds and cook, stirring occasionally, until seeds are puffed and golden. Transfer to a plate to cool. When seeds have hardened, break up any clumps with your fingers.

Make vinaigrette:
Whisk together pomegranate juice, vinegar, and shallot and let stand 5 minutes. Whisk in 3 tablespoons oil, remaining 1/4 teaspoon salt, and pepper to taste.
Roast pumpkin:
Preheat oven to 450°F.
Cut pumpkin quarters crosswise into 1/2-inch-thick slices. Toss with 1 tablespoon oil and salt and pepper to taste in a shallow baking pan and arrange slices in 1 layer. Roast in middle of oven until just tender, about 20 minutes. Remove from oven, then cover with foil to keep warm.
Fry polenta while pumpkin roasts:
Trim polenta into a 9- by 6-inch rectangle. Cut polenta into 6 (3-inch) squares, then halve each square diagonally. Heat 1 tablespoon oil in a large nonstick skillet until hot but not smoking, then cook polenta in 2 batches, turning once, until golden brown, about 8 minutes (if necessary, use remaining tablespoon oil for second batch). Transfer as cooked to a plate and keep warm, covered.
Assemble salad:
Shave 12 strips from cheese with a vegetable peeler.
Whisk vinaigrette, then toss arugula in a large bowl with enough vinaigrette to lightly coat. Place several pieces of pumpkin and 1 piece of polenta on each of 6 plates. Top with arugula, more pumpkin, and remaining polenta. Sprinkle with candied pumpkin seeds and top with parmesan shavings, then drizzle with remaining vinaigrette.
Cooks' notes:
• Polenta, spread on baking sheet and not yet fried, can be chilled up to 1 day. • Candied pumpkin seeds can be prepared 3 days ahead and kept in an airtight container at room temperature. • To juice a pomegranate, firmly roll it on a work surface until it feels softer, then cut a small hole in skin and squeeze.
Recipe adapted from Gourmet 2001
Posted in pumpkin recipes | Tagged: Everything Pumpkin, Everythingpumpkin, Gratin, Health Conscious Pumpkin, Potato Recipes, Pumkin, Pumpkin, pumpkin recipes, pumpkin seeds, Vegetarian Pumpkin | Leave a Comment »
Pumpkin Ice Cream
Posted by Everything Pumpkin on August 16, 2013
"Always leave enough time in your life to do something that makes you happy, satisfied, even joyous. That has more of an effect on economic well-being than any other single factor." Paul Hawken
Ice cream makes me happy, pumpkin makes me joyous and putting them together makes me quite satisfied. This recipe takes just a little time to enjoy on a weekend.
Pumpkin Ice Cream
2 cups milk
2-inch piece cinnamon stick
1/2 tsp. ground allspice
6 egg yolks
3/4 cup firmly packed light brown sugar
2 1/2 cups heavy cream
4 cups Pumpkin Puree
3 tbsps. finely chopped stem ginger (optional)
Place the milk, cinnamon stick and allspice in a saucepan, bring to just below boiling point, remove from the heat, cover and let stand for 30 minutes to infuse, then discard the cinnamon stick.
Whisk the egg yolks and sugar in a bowl until thick and creamy, and the whisk leaves a trail when lifted. Pour the infused milk into the egg mixture, stirring well. Pour into a clean saucepan and cook gently, stirring constantly until the mixture thickens and coats the back of the spoon: do not allow it to boil or it will separate. Remove the mixture from the heat and pour through a fine strainer into a clean bowl. Set aside to cool, stirring occasionally to prevent a skin from forming.
When the mixture is cool, stir in the cream, pumpkin puree and chopped ginger (optional) and chill in the refrigerator for at least 3 hours, or overnight if time allows.
Place the bowl in the freezer for 1 hour until the mixture is firm (1-inch around the edge). Whisk well to break down the ice crystals, then return the bowl to the freezer until it is semi-frozen. Whisk again, then freeze until firm. Alternately, pour the chilled mixture into an ice-cream machine and churn until thick, then transfer to a rigid container and freeze until firm.
Serves 8
Preparation time: 10 minutes plus chilling and infusion time
Cooking time: 10 minutes
The Pumpkin Cookbook
Posted in Frozen Pumpkin Recipes | Tagged: Pumpkin, Pumpkin Ice cream | Leave a Comment »
Pumpkin Spice Cookies
Posted by Everything Pumpkin on December 21, 2012
Today this post is in support of Cookies and Crafts for Sandy Hook victims.
"We know that no words, no gifts, no acts of service will ever take away the pain, but we, as bloggers want those affected by this to know how close to our hearts they are:

We love you. We pray for you. We're so heartbroken for your loss.

To honor the memory of lives cut short, we choose to step away from our blogs and computers today to celebrate the gift of life and those we love most: our children, families, good friends and community. We're holding our kids a little closer, reaching out to neighbors and giving thanks for the moments we have together.

Thank you for stopping by today. We hope you'll join us in remembering, praying, and gathering close. We wish you and your families a safe and blessed holiday."
PUMPKIN SPICE COOKIES
Yield: about 2 dozen cookies
Ingredients:
For the Cookies:
2 cups all-purpose flour
½ teaspoon baking powder
½ teaspoon salt
2 teaspoons pumpkin pie spice
16 tablespoons (2 sticks) unsalted butter, softened but still cool
1 cup granulated sugar
1 tablespoon light brown sugar
1 large egg
1 ½ teaspoons vanilla extract
For the Icing:
4 cups confectioners' sugar
¼ cup and 1 tablespoon cream
½ cup butter
2 teaspoons vanilla extract
Directions:
In a medium bowl, whisk the flour, baking powder, and salt: set aside.
In the bowl of a stand mixer with the flat beater attached, cream the butter, granulated sugar, and brown sugar at medium speed until light and fluffy, about 3 minutes. Scrape down the sides of the bowl with a rubber spatula as needed. Add the egg and vanilla; beat at medium speed until combined, about 30 seconds. Add the dry ingredients and beat at low speed until just combined, about 30 seconds, scraping down the bowl as needed. Shape into a disk and wrap tightly with plastic wrap. Refrigerate for at least 1 hour.
Line baking sheets with parchment paper. Remove dough from refrigerator onto a lightly floured surface. Let dough sit at room temperature for 10 minutes.
With rolling pin, roll the dough out to ¼ inch thickness. Use a cookie cutter to cut out cookies, placing on prepared baking sheet.
Place baking sheet with cookies on them in the refrigerator for a least 15 minutes before baking.
Adjust the oven racks to the upper-and lower-middle positions and heat the oven to 375 degrees F.
Bake cookies for 8-9 minutes until edges are just ready to turn the slightest bit light brown. Cool on a wire rack before decorating.
To make the icing, in a saucepan over medium heat, heat cream and butter until butter is melted. Stir in the vanilla and confectioners' sugar. Remove from heat, and beat with an electric mixer until thick and smooth.
The icing sets up very quickly, so when you are decorating if you find that it becomes hard to work with, place in the microwave for 10-15 seconds and it will re-soften and be smooth again. Alternately, you can place the icing in a heat proof bowl set over a pot of simmering water to keep it smooth.
Source: cookies adapted from Soft and Chewy Sugar Cookies icing adapted from Allrecipes.
Posted in pumpkin cookies | Tagged: #BloggersforSandyHook | Leave a Comment »
Chocolate-Pumpkin Layer Cake
Posted by Everything Pumpkin on November 14, 2012
Time: 1 1/2 hours plus cooling
20 tablespoons (2 1/2 sticks) soft unsalted butter, more for greasing
2 cups flour, more for dusting
1 teaspoon cinnamon
1/2 teaspoon ground ginger
1/2 teaspoon nutmeg
1/4 teaspoon allspice
1 teaspoon baking soda
1/2 teaspoon baking powder
1/2 teaspoon salt
1 1/2 cups granulated sugar
3 eggs
1 1/2 cup plain pumpkin purée, canned, frozen or fresh
1 cup semisweet chocolate chips
1 cup chopped pecans
2 1/2 cups confectioners' sugar
10 ounces unsweetened chocolate, preferably 99 or 100 percent, melted and cooled to room temperature
1 teaspoon vanilla extract.
1. Heat oven to 350 degrees. Use a little butter to grease two 9-inch round cake pans. Line bottoms with parchment paper. Butter and flour the paper. In a large bowl, whisk flour, cinnamon, ginger, nutmeg, allspice, baking soda, baking powder and salt together.
2. Using an electric mixer, cream 8 tablespoons butter and the granulated sugar together until light and fluffy, about 3 minutes. Beat in eggs one at a time. Stir in pumpkin purée. Mixture may look slightly curdled. Stir in flour mixture about half a cup at a time until smooth. Fold in chocolate chips and pecans.
3. Divide batter into pans and bake in middle of oven until springy to the touch and a tester inserted in center comes out clean, about 35 minutes. Cool cakes in pans for 10 minutes, run a knife around edges, invert onto racks and peel off paper. Let cakes cool completely.
4. In a large bowl, blend remaining 12 tablespoons butter and confectioners' sugar together. Blend in chocolate and vanilla extract and beat until smooth.
5. Place one cake layer, smooth side up, on a platter. Ice top. Place second layer, smooth side down, on top; ice top and sides of cake.
Yield: 8 to 12 servings.
To make ahead: For fully frosted cake, put in freezer unwrapped; when frozen hard, wrap in plastic, then foil. Remove wrapping before defrosting.
Unfrosted cake layers out of their pans can be wrapped first, then frozen up to three weeks.
Frosting can be made up to 24 hours ahead and refrigerated, then brought to room temperature for at least one hour.
By Florence Fabricant
Published: November 12, 2008 – NY Times
Adapted from John Down, Christopher Norman Chocolates
Posted in pumpkin recipes | Tagged: Pumkin, Pumpkin, pumpkin cake, pumpkin chocolate cake, pumpkin recipes | Leave a Comment »
Pumpkin Hummus
Posted by Everything Pumpkin on October 28, 2012
This dish offers a holiday-style twist on the traditional Middle Eastern spread. You can find pumpkin seeds–also called pepitas–in groceries and Mexican markets. Prepare up to a day ahead, and refrigerate.
Yield
10 servings (serving size: about 3 tablespoons hummus and about 3 pita wedges)
Ingredients
4 (6-inch) pitas, each cut into 8 wedges

Cooking spray

2 tablespoons tahini (sesame-seed paste) **

2 tablespoons fresh lemon juice

1 teaspoon ground cumin

1 teaspoon olive oil

3/4 teaspoon salt

1/8 teaspoon ground red pepper

1 (15-ounce) can pumpkin

1 garlic clove, chopped

2 tablespoons chopped fresh flat-leaf parsley

1 tablespoon pumpkinseed kernels, toasted (optional)
Preparation
Preheat oven to 425°.
Place pita wedges on baking sheets; coat with cooking spray. Bake at 425° for 6 minutes or until toasted.
Place tahini and next 7 ingredients (through garlic) in a food processor, and process until smooth. Add parsley; pulse until blended. Spoon hummus into a serving bowl; sprinkle with pumpkinseed kernels, if desired. Serve with pita wedges.
**Tahini is a thick paste made of ground sesame seeds that can be purchased already prepared from many supermarkets and specialty stores.
Jackie Mills, Cooking Light, NOVEMBER 2005
Posted in Pumpkin | Tagged: Everything Pumpkin, Everythingpumpkin, pepitas, Pumkin, Pumpkin, pumpkin recipes,Vegetarian Pumpkin | Leave a Comment »
Mesa Grille's Pumpkin Soup
Posted by Everything Pumpkin on October 14, 2012
Mesa Grille's Pumpkin Soup
Recipe by: Chef Bobby Flay
Ingredients
3 tablespoons unsalted butter
1 large onion, coarsely chopped
2 cloves garlic, coarsely chopped
1 large carrot, peeled and coarsely chopped
2 stocks celery, coarsely chopped
7 cups vegetable stock, or water
1 1/2 cups pumpkin puree (not flavored pie filling)
1/4 teaspoon ground Mexican cinnamon, plus 1 teaspoon (canella)
1/4 teaspoon allspice
1/4 teaspoon ground ginger
1/4 teaspoon freshly grated nutmeg
2 tablespoons honey
2 teaspoons chipotle puree
3/4 cup creme fraiche or sour cream
Salt and freshly ground pepper
Garnish: 1/2 cup toasted pumpkin seeds
Directions
Heat the butter in a medium stockpot over medium heat. Add the onions, garlic, carrots and celery and cook until soft. Add the water and bring to a boil. Reduce heat and simmer for 20 to 30 minutes. Strain the stock into a clean medium saucepan and whisk in the pumpkin puree until smooth. Bring to a simmer and add the 1/4 teaspoon cinnamon, spices, honey and chipotle. Cook for 15 to 20 minutes. Add water, if the soup is too thick. Remove from the heat and whisk in 1/4 cup of the creme fraiche and season with salt and pepper to taste. Mix together the remaining creme fraiche and remaining 1 teaspoon cinnamon until combined. Divide the soup among 4 bowls and garnish with the cinnamon creme fraiche and a handful of pumpkin seeds.
Posted in Pumpkin, pumpkin recipes | Tagged: Everything Pumpkin, everythingpumkin, Pumpkin, Pumpkin & Squashes,pumpkin recipes | Leave a Comment »
Pumpkin Biscotti
Posted by Everything Pumpkin on October 2, 2012
What better way to enjoy the flavors of Autumn than to treat yourself to a mug of hot chocolate or pumpkin spice latte and a pumpkin biscotti. The biscotti makes a wonderful hostess gift as well for your holiday parties.
Pumpkin Biscotti
½ tsp.baking soda
1 ¾ cups flour
½ tsp. baking powder
1/8 tsp. salt
1 tsp. nutmeg
½ tsp. cinnamon
½ cup pumpkin (puree)
½ cup unsalted butter, room temperature
1-cup brown sugar
1 tsp. vanilla
2 eggs
1 tsp. orange zest, grated
8 oz. white chocolate
Sift together the flour, baking soda, baking powder, salt, nutmeg and cinnamon, setaside. Beat the butter and sugar in a mixer until light and fluffy. Add the eggs, vanilla, pumpkin puree and orange zest. Continue to beat until well blended. Add the flour mixture and beat until just incorporated. Refrigerate about 1 hour.
Preheat the oven to 350° F. Line a baking sheet with parchment. Divide the dough in half and using lightly floured hands shape each half into a log. Bake about 30 minutes until brown and firm to the touch. Let cool 10-15 minutes. Transfer to a cutting board and slice in the diagonal ¾ inch thick. Place a cooling rack on the baking sheet and arrange slices cut side down and bake until golden brown. approx. 15 -20 minutes. Cool.
Chop the chocolate and melt in a double broiler or in the microwave, carefully stirring frequently. Drizzle each cooled cookie with chocolate and place on a lined tray chocolate side up. Refrigerate briefly to set the chocolate.
Makes about 24
Kathy Ireland.com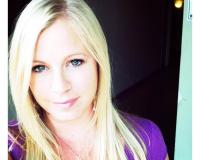 Author:
Kim Guest
Phone:
864-918-0066
Dated:
September 2nd 2015
Views:
256
About Kim: ...